Crafting with August can be a difficult thing. He is a very sensory learner, always wanting to touch things to experience them first. So, when I get out the glue, paint, markers or crayons, he has little to no interest in putting them on paper or whatever other material we're working with. He instead wants to squish the glue and paint between his fingers. He wants to color all over his arms and hands with the markers. He wants to break the crayons into as many little pieces as he can. He mostly wants nothing to do with paint brushes or any tool other than his own fingers. As a result, usually our crafts involve just getting out the play-doh or the finger paints so he can be hands-on.
The other day, I thought I'd attempt a craft that I'd seen a brief picture of on the internet somewhere. It was one of those fleeting moments where I was on a search for something else and came across a picture of an alligator made out of an egg carton. So I stored the image away in my brain somewhere to come back to later. Several weeks later, after saving two egg cartons, I thought I would attempt the craft with August, at which point we could look up interesting facts together about alligators and crocodiles and talk about the differences between the two and it could be a great teaching tool. What's that quote? "The best laid plans of mice and men often go awry," I think it is. Well, perhaps it should be, "The best laid plans of mice and mamas often go awry." I put the little alligators together by myself (thinking that would be a bit advanced for him) and then presented them to August, telling him that we could paint them together. August immediately picked up his and started banging it against the table making growling sounds. The texture of the egg carton had prevented the glue from sticking. So as he banged, the eyes and tail immediately came off and went flying across the room. So, I took a deep breath, taped them on and preceded to get the paints out. August immediately dipped his fingers in the paint (which was something I had been anticipating) and started painting his alligator. This lasted literally 30 seconds before he started rubbing the paint on his arms, then on the table, then on his face. The alligator, at this point, was completely insignificant to him. I attempted several times to encourage him to wipe some of the paint on his alligator. This was usually responded with, "No, I'm doing sumping else."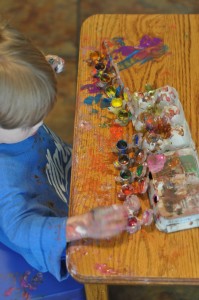 I continued to paint mine in the hope that it would get him more interested, but it never did. In the end, we had these:
They actually didn't turn out too bad. Unfortunately, my other mistake was that I attempted this craft right before nap time. When I went to wipe the paint off of August's face and hands and neck and ear, he preceded to throw a fit. It's challenging to explain to a two-year old that, while you appreciate his artwork, it must now be scrubbed off his body. While this wasn't the most successful craft project, I'll certainly keep attempting. Next up? A brown bear made out of paper plates!!